The Russian based Chicken Shit, captivated our interest with their clean lines and crazy faced "fuck you!" attitude, in the most desirable sense.   It's not every day a designer comes along, so completely full of slick bohemian cool that looking away from them risks missing an important element of modern design culture. That's Chicken Shit and here's why!
SF:   So chicken shit, what sparked your interest in clothing design and how did it come about that you were able to start a company (friends, knowing the right people, money, luck)?
CS:   We started from thinking about designs, we were making 2 or 3 t-shirts and gave them to our friends who were the right people for the created images. As a result, there appeared a group of people longing to get more new presents! And right then we decided to create something more serious and we called it chicken shit.
Initial capital we gained while working as builders and we invested everything in manufacturing. But without being friends to right people, we mean photographers, fashion designers, band players, it would be even more difficult!
SF:   Chicken shit – is it only t-shirts?
CS:   Chicken shit team is not going to confine itself to making only t-shirts. We plan to make up jewellery with the help of laser technology, jerseys styled as half-gay and half-gipsy, and oversized bags big enough to keep all your fashion treasures.There will be complete collections interesting in the chosen themes. We pay much attention to the occult symbols that can be found in each Chicken shit collection.
Chicken shit also organizes exhibition, makes installations and fashion sessions.
SF:   why the name chicken shit?
CS:   One our friend of came to Russia from Africa and everything that was not clear to him or he just could not understand, he called "chicken shit". We liked this expression because it sounds pretty vivid, easy to remember and its two components are the most popular words in the world!!!
SF:   who do you think is most drawn to your designs? (an age group, class, for everyone? and why?)
CS:   we say "no" nice sweet boys! We claim outlaws to be the new trend in the world of fashion. Our inspiration is Vincent Cassel. "He is the rightest prototype for our brand.Talking about girls, we really like Alison Mosshart from the Kills. She is one of a kind!!"
SF:   plans for future?
CS:     In October we bring to Saint-Petersburg one of the most famous and fashionable photographers – Knotan! His personal exhibition called Favourite Scandinavian photographers will be held in one of the most popular art gallery. In this connection, a new series of designs "collaboration with knotan" will be launched! (www. knotan. com)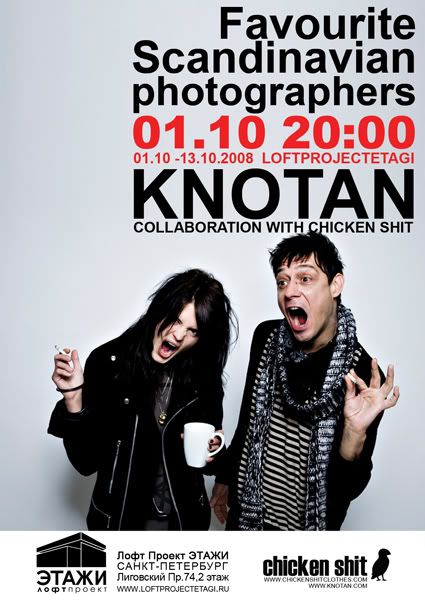 Check out Chicken Shit Clothing at www.chickenshitclothes.com/
or see their Myspace here!
Enjoy!